A group of us has been gathering to explore, question, and put to use these concepts in our local Berlin context.  Our current project : We are translating a text by Communities Against Rape and Abuse (which you can find in the Library section of the site) from English into German.  If you want to collaborate, email us !
we meet regularly every first sunday every month
wir treffen uns jeden ersten sonntag im monat
16-20h ; 4 to 8 pm
one organizational meeting once a month on a friday
ein organisatorisches treffen einmal im monat an einem freitag
18-20h ; 6-8 pm
Come join, let's see how it grows..
***
Berlin becomes Accountable…
Safety, Support, and Self-determination for SURVIVORS
CONSENT-Based Prevention Education
Accountability and Transformation for PERPETRATORS
Intersectional, Anti-Oppression ACTIVISM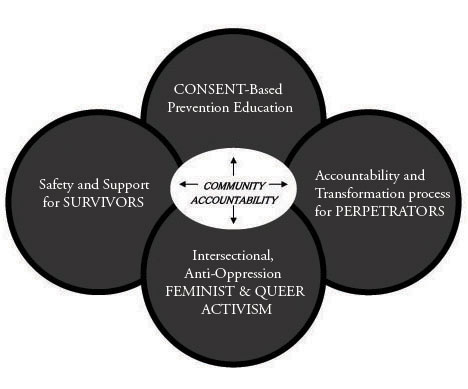 Modified version of INCITE!'s model from their Community Accountability Fact Sheet adapted with a focus on sexual violence
Survivor Support, Safety, Self-Determination

Tauwetter is a contact point for male survivors of childhood sexual assault and abuse.
Gays and Lesbians aus der Turkei, unabhängige Selbst-Organisation von türkeistämmigen Lesben, Schwulen, Bi- und Transsexuellen und Transgendern, auch Menschen mit anderen Migrationshintergründen
Gays and Lesbians from Turkey, independent self-organization of Turkish lesbians, gays, bi- and trans-sexuals, and transgendered persons.  Includes individuals from many different immigrant backgrounds.
Ask Gerd_a
Kontakt: ask_gerd_a[ät]riseup.net
The anti-sexist collective Gerd_a (ASK Gerd_a) offers support for survivors of sexual violence and sexist discrimination in Berlin. This support work is based on the principles of Definitionsmacht (power of self-definition) and Parteilichkeit (partiality towards or commitment to the survivor).
Antigewalt und Antidiskriminierungsbereich der Lesbenberatung Berlin e.V.
Anti-violence and anti-discrimination project of the Lesbian-counseling service center in Berlin
Wildwasser is directed mainly towards girls and women who are affected by sexual violence or abuse, and their friends and relatives.
We counsel and support women who have experienced rape, sexuall assault or attacks, or sexual harassment, regardeless of when the event took place. Available by telephone and also in person.
Reading Materials:
Supporting a Survivor of Sexual Assault
Antisexismus Reloaded: Zum Umgang mit sexualisierter Gewalt– ein Handbuch für die antisexistische Praxis
Consent Education & Prevention
 Reading Materials:
Perpetrator Accountability & Transformation

for perpetrators :
for those holding perpetrators accountable :

Intersectional, Anti-Oppression ACTIVISM
there's so much to put here… coming soon….