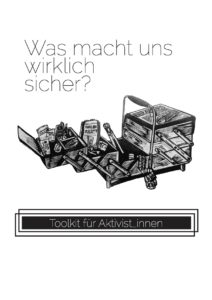 The little monster is finally here!
The "What really makes us safe? Was macht uns wirklich sicher?" Project, which includes a website, seminars, events, an exhibition, and now this toolkit asks the question: How can seemingly good ideas like supporting survivors of violence go so wrong by supporting racist surveillance and security regimes? In light of the debates around the sexual assaults and racial profiling at New Years for the last two years in Cologne, this toolkit critiques the State's so-called "protection" in cases of sexual and intimate partner violence. Strategies like the police, prisons, and borders re_produce violence rather than end it. If the police and borders cannot give us safety, what alternatives do we have in our own communities? How can we make ourselves safe?
To sharpen our analysis and find answers, this toolkit was created. It brings together contributions from many Berlin-based activists and organizations, like: Women in Exile, LesMigraS, Hydra, Kiralina, Kampagne für Opfer rassistischer Polizeigewalt (KOP), MSO Inklusiv!, & KNAS[].
The toolkit was launched on June 10th at the "Labor für Alternativen zu Polizei & Gefängnis". The first diy printing of 100 copies were quickly taken up by the hungry hands in the audience. Now its here to download and read, print and pass along. Pass it along to your friends, family, & comrades!